One of our most successful beginners, Miles has had quite a year!
For more information on VI and Adaptive Judo click here.
"Hi, I'm Miles, I'm 20, I study Maths at Oxford and I'm visually impaired. I started Judo at the beginning of university. I had never done anything like it, I had no martial arts experience but it was something I thought it looked interesting. At the fresher fair I met one of the coaches and asked him if Judo was suitable for someone visually impaired, he said that it was the best sport for someone like me and I'd be very welcome to join the beginners' course.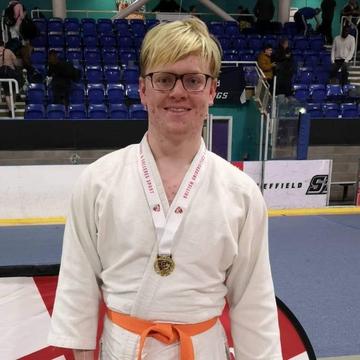 "Over my first term at university Judo's weekly sessions were the highlight of my week. I'd thoroughly enjoy myself. At end of the course we did our first grading, once we passed we all became yellow belts.
"At the start of second term there were many more sessions I could attend each week, I welcomed the opportunity to train more. I was asked if I wanted to compete in the British University Championship (BUCS) I said of course. Happily, the event was being held in my hometown Sheffield so my family could watch.
"I went into the event not expecting much. I'd just become an orange belt 4 days earlier which is the minimum grade to compete in the event so I wasn't hopeful. This was until I had a conversation with my coach where he said that the most important aspect of a fight is confidence. The guy in front of you is just the next guy you're going to beat. This really got me in the right mind set before the match.
"The first fight came and went, I'd won my first fight! I was amazed. My coach patted me on the back and said one down two to go. The next fight only lasted 4 seconds. As I walked off, I was told I was in the final. I asked my coach what happens if I lose, he said there is no point thinking about that, it's not going to happen. He was right. I won. I had won a gold medal in my first competition in my hometown in front of my parents. This was when I fell in love with Judo.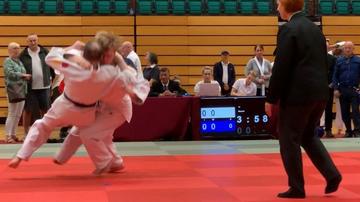 "The following week I competed in the Oxford-Cambridge varsity match. I managed to win this also. Later I found out that the whole Cambridge team had been practicing visually impaired rules to try and counter me, their efforts were fruitless.
"My coach told me that there was a competition in Cardiff for visually impaired athletes. It was the British visually impaired championships. He told me to enter, so I did.
"On the day I was terrified, there were people who'd travelled from across the world to compete here. After all my fights were over, I'd won. I became the British visually impaired champion with my longest fight being 6 seconds.
"It's been the best year of my life and I can't believe all the fun I've had due to Judo."